Preuzmite program simpozija u PDF formatu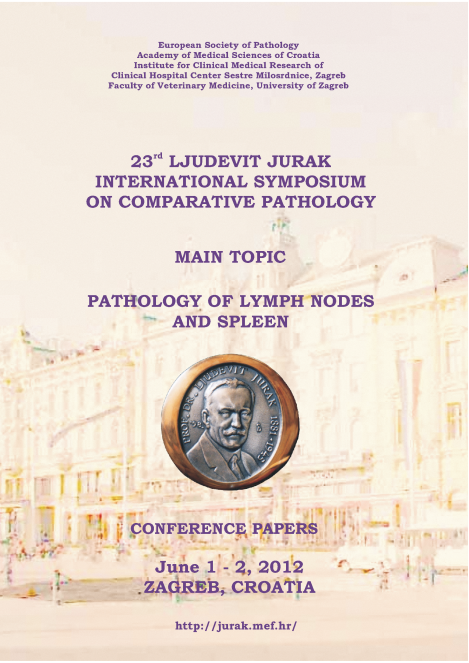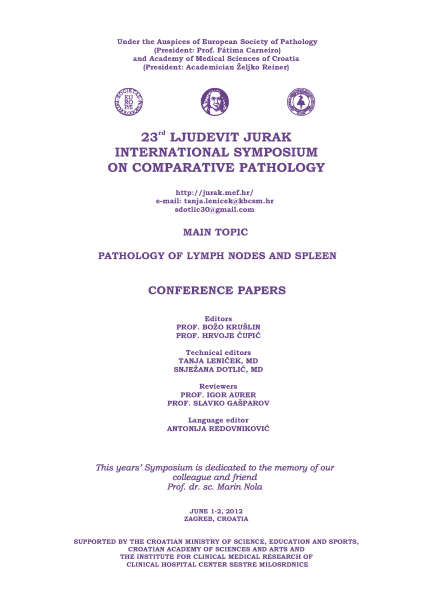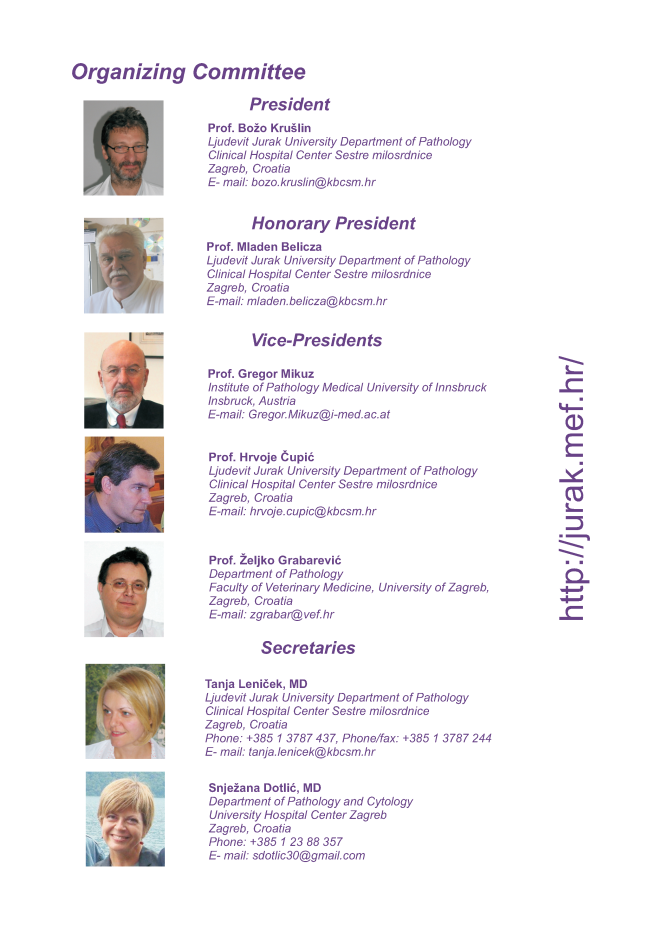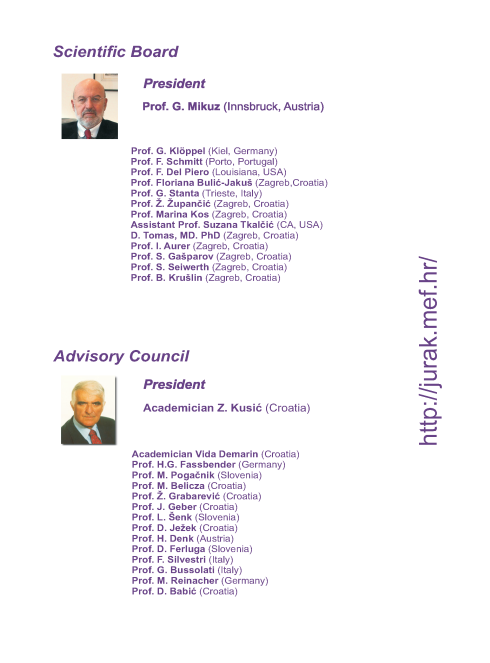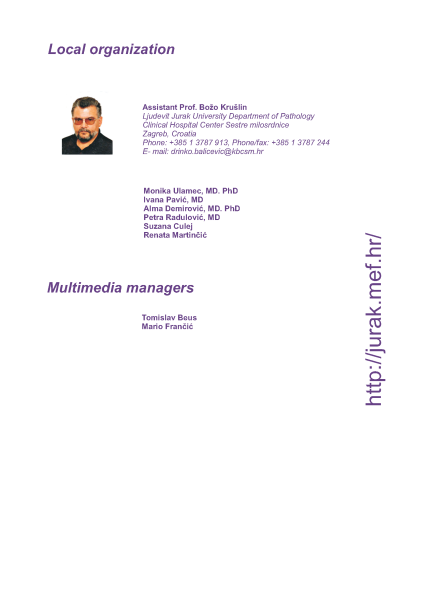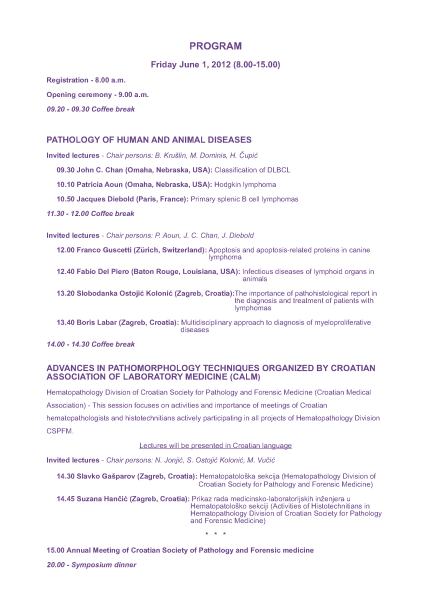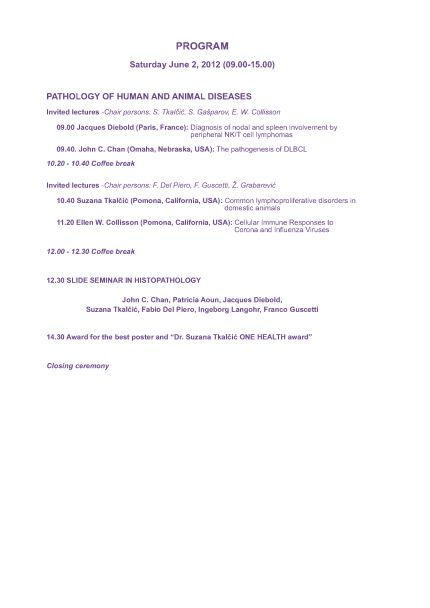 Preuzmite program simpozija u PDF formatu
POSTER PRESENTATIONS
1. Z. Zore, M. Stanec, T. Orešić. THERMOGRAPHIC FINDINGS IN BREAST CANCER ACCORDING TO HER-2
2. Z. Zore, I. Filipović-Zore, A. Milenović, S. Manojlović. SKIP METASTASIS OF JUVENILE MELANOMA
3. J. Begić, D. Bobonj-Hižak, B. Muić, S. Gašparov, T. Džombeta, B. Krušlin. BILATERAL DIFFUSE LARGE  B-CELL LYMPHOMA OF THE TESTIS: CASE REPORT
4. M. Šokčević, I. Pavić, I. Maričević, M. Magazin. CYTO-HISTOPATHOLOGIC CORRELATION OF LUNG CARCINOMA
5. I. Ilić, S. Dotlić, A. Jakovčević, D. Kolenc, K. Žarković, S. Djurić, M. Vukić. FOLLICULAR LYMPHOMA OF THE FALX CEREBRI: CASE REPORT
6. A. Vukasović, D. Grbeša, T. Nikuševa-Martić, V. Kušec, L. Šerman. AXIN-1 EXPRESSION IN NORMAL AND IUGR PLACENTAS
7. M. Milković-Periša, S. Šitić, M. Perić-Balja, S. Ramić, G. Stanić, F. Knežević. KIMURA'S DISEASE: CASE REPORT
8. G. Aralica, S. Bulimbašić, J. Bacalja, A. Pačić, Č. Tomasović-Lončarić, R. Ajduković-Stojsavljević, G. Bedalov, D. Galešić-Ljubanović. HODGKIN'S LYMPHOMA MIMICKING XANTHOGRANULOMATOUS PYELONEPHRITIS
9. S. Ramić, M. Perić-Balja, S. Šitić, M. Milković-Periša, F. Knežević. CHANGES IN THE ER, PR AND HER-2 EXPRESSION BETWEEN PRIMARY AND METASTATIC BREAST CANCER AFTER ADJUVANT THERAPY
10. L. Labinac-Peteh, I. Kučinar, F. Božac, T. Džombeta, B. Krušlin. RENAL METASTASIS FROM PULMONARY ADENOID CYSTIC CARCINOMA
11. M. Vdović, D. Fajdić, M. Hohšteter, A. Gudan-Kurilj, B. Artuković, A. Beck, I.C. Šoštarić-Zuckermann, Ž. Grabarević. INCIDENCE AND TYPES OF PATHOLOGICAL CHANGES IN SPLEENS OF SPLENECOTMIZED DOGS IN CROATIA
12. I. Šimić, M. Tadić, V. Stevanović. EMERGING PATHOGEN – BARTONELLA HENSELAE. FROM LYMPH NODE TO SPLEEN
13. R. Limani, I. Brnadić, M. Tomić, M. Ulamec, B. Krušlin. RENAL CELL CARCINOMA WITH CLEAR CELL AND PAPILLARY FEATURES: A REPORT OF TWO DISTINCTIVE CASES
14. S. Cesarec, B. Spajić, D. Tomas, D. Trnski, B. Krušlin. (PERI)RENAL DIFFUSE LARGE B-CELL NON-HODGKIN'S LYMPHOMA: REPORT OF TWO CASES
15. M. Bezjak, M. Ulamec, A. Demirović, M. Belicza, B. Krušlin. APOPTOTIC MARKERS Bax, Bcl-2 AND p53 IN RENAL ONCOCYTOMA AND CHROMOPHOBE CARCINOMA
16. I. Kolač-Damjanović, M. Ulamec, I. Tomašković, B. Krušlin. NON-HODGKIN'S LYMPHOMA OF URINARY BLADDER
17. K. Matušan-Ilijaš, B. Grahovac, A. Duletić-Načinović, S. Novak, K. Lučin, N. Jonjić. NODAL MARGINAL ZONE LYMPHOMA IN A PATIENT WITH ANTIPHOSPHOLIPID SYNDROME
18. K. Matušan-Ilijaš, G. Damante, D. Fabbro, G. Đorđević, I. Hadžisejdić, M. Grahovac, M. Avirović, B. Grahovac, N. Jonjić, K. Lučin. EGFR EXPRESSION IS LINKED TO OSTEOPONTIN AND NF-κB SIGNALING IN CLEAR CELL RENAL CELL CARCINOMA
19. G. Gašljević, B. Grcar-Kuzmanov. B CELL AND PLASMA CELL PROLIFERATION IN NODAL T CELL LYMPHOMAS
20. S. Gašparov, P. Korać, T. Horvat, V. Zoldoš, S. Ostojić-Kolonić, M. Dominis. HISTONE MODIFICATION H3K9 IN CLASSIC HODGKIN'S LYMPHOMA
21. N. Sinčić, A. Gospodinov, M. Vlahović, G. Jurić-Lekić, F. Bulić-Jakuš. IMPACT OF RNA INTERFERENCE WITH STEMNESS GENE EXPRESSION IN EXPERIMENTAL MOUSE TERATOMA GROWN IN VITRO
22. V. Mužić, A. Katušić, M. Himelreich, Lj. Šerman, Ž. Majić, N. Sinčić, M. Vlahović, G. Jurić-Lekić, F. Bulić-Jakuš. 5-AZACYTIDINE IMPAIRS MAMMALIAN LIMB BUD DEVELOPMENT EX VIVO 
23. P. Šenjug, D. Švenda, Č. Tomasović Lončarić, T. Štoos-Veić, G. Aralica,V. Pejša, O. Jakšić. ASSESSMENT OF BONE MARROW INFILTRATION BY FINE NEEDLE ASPIRATION BIOPSY IN MONOCLONAL PLASMA CELL DISORDERS
24. V. Kozina, I. Krhen, M. Kordić, D. Ježek. EXPRESSION OF NESTIN IN TESTICULAR BIOPSY OF INFERTILE PATIENT WITH SEMINOMA
25. I. Pavić, V. Nikić, D. Baličević. A CASE OF DIABETIC HEPATOSCLEROSIS: A RARE FORM OF NONALCOHOLIC FATTY LIVER DISEASE
26. A. Škrtić, P. Korać, D. Radić-Krišto, R. Ajduković-Stojisavljević, D. Ivanković, M. Dominis. EXPRESSION OF BCL1, CD20, PAX5 AND OCCURRENCE OF t(11;14)(Q13,Q32) AND PAX5(9P13) TRANSLOCATION IN MULTIPLE MYELOMA AND MONOCLONAL GAMMOPATHY OF UNDETERMINED SIGNIFICANCE ASSESSED BY IMMUNOHISTOCHEMISTRY AND INTERPHASE FISH
27. S. Ramić, L. Hiršl, F. Paić, Z. Legčević, V. Benković, F. Knežević. EXPRESSION AND PROGNOSTIC SIGNIFICANCE OF EPIDERMAL GROWTH FACTOR RECEPTOR FAMILY IN BREAST CANCER
28. P. Sesar, I. Pavić, H. Čupić, D. Tomas. CARCINOMA OF COLLECTING DUCTS OF BELLINI – AN UNUSUAL PRESENTATION WITH MULTIPLE METASTASES TO THE SMALL INTESTINE
29. P. Radulović, H. Čupić, R. Iveković, C. Lež, L. Pažanin. COATS' DISEASE: THE MOST IMPORTANT DIFFERENTIAL DIAGNOSIS OF RETINOBLASTOMA
30. I. Veliki Dalić, Z. Marušić. SPIRADENOCYLINDROCARCINOMA: A MALIGNANT HYBRID TUMOR
Thermographic findings in breast cancer according to HER-2
Z. Zore, M. Stanec, T. Orešić
Oncologic Surgery Department, Sestre milosrdnice University Hospital Center, Zagreb, Croatia
Earlier thermographic studies have shown that some immunohistochemical factors could determine aggression of invasive breast tumors by thermo biological signs. The aim of the study was to assess the impact on thermography findings of HER-2 status as a prognostic and predictive factor, which has so far not been a subject of thermography tests. The study included 75 patients diagnosed with invasive breast tumors during a one-month period in 2011. The patients with indication for surgical treatment of suspected breast changes were preoperatively examined using thermography. Thermography was carried out using a ThermaCAM 2000 thermography system, under ambulatory conditions, in an air-conditioned room, and constant humidity and temperature of 22-23 ºC. The imaging was carried out with patients in sitting position, their arms on the back of the head, with maximum inspiration, from a distance of 80 cm. A front image of the thorax with the axilla was obtained both in the right and left oblique projections. Thermography findings were used for comparison with the parameters of immunohistochemical findings (HER-2 status), showing their impact on temperature data, in line with the characteristics given to a particular group of patients with invasive breast tumors. The study included 75 patients with invasive breast tumors, aged 36-86, mean age 64±11.36 years. Positive HER-2 was recorded in 14 (19%) and negative HER-2 in 59 (81%) patients. A statistically significant difference was recorded in all cases, i.e. the tumors and the breasts with tumors were statistically significantly warmer (p<0.001) than the opposite side. The arithmetic means of maximum and average temperature of tumors, arithmetic means of maximum temperatures of breast with tumors, and the difference between the average temperature of tumors and the side opposite to that of the tumor were significantly higher for HER-2 positive than for HER-2 negative tumors (p<0.05). Accordingly, the results of this study pointed to a statistically significant impact of positive HER-2 as compared to negative HER-2 tumors. The trend of increased temperature in HER-2+ tumors was also indicated in all other temperature findings and in healthy breast. The findings clearly indicated the HER-2+ status to have the highest impact on all temperature measurement findings.
Skip metastasis of juvenile melanoma
Z. Zore1, I. Filipović-Zore2, A. Milenović3, S. Manojlović4
1Oncologic Surgery Department, Sestre milosrdnice University Hospital Center; 2Department of Oral Surgery, School of Dental Medicine, University of Zagreb; 3Department of Maxillofacial Surgery, Dubrava University Hospital, 4Department of Pathology, Dubrava University Hospital, Zagreb, Croatia
Patients with juvenile melanoma are often young, with a lower likelihood of developing melanoma. Although juvenile melanomas have generally been reported to have good prognosis, there are well-documented cases of metastasis and death. Because the malignant potential of juvenile melanomas remains uncertain, most clinicians and patients decide to treat it more aggressively to avoid undertreating a potentially lethal lesion. We present a case of a 40-year-old male patient suffering from skip metastasis of a facial juvenile melanoma in one lymph node in the neck region, subsequently recognized as melanoma. From the case history was learned that the patient had undergone an operation for juvenile melanoma in the right nasolabial cheek sixteen years before. Examination revealed a postoperative scar on the right cheek, there was no local recurrence. Juvenile melanoma has been characterized as relatively uncommon: it is estimated to account for only about 1% of surgically removed nevi. Missed melanoma represents the leading cause of medical malpractice cases; many of these are initially misdiagnosed as juvenile melanoma. Clinically, melanoma is curable if surgically removed early, but it is consistently fatal if left untreated, and it frequently affects younger individuals. Histologically, in a small percentage of cases, the distinction between nevus and melanoma is difficult or impossible. They are generally treated in a similar manner as melanoma, with a wide excision of the primary lesion, and in many cases with sentinel lymph node biopsy (SLNB). Regional lymph node involvement by juvenile melanoma has been documented. Despite the presence of metastatic disease, in many of these cases, follow-up has to date proved more favorable than it would be expected in comparison with conventional melanomas of similar tumor burden.
BILATERAL DIFFUSE LARGE  B-CELL LYMPHOMA OF THE TESTIS: CASE REPORT
J. Begić1, D. Bobonj-Hižak1, B. Muić2, S. Gašparov3,4, T. Džombeta4, B. Krušlin4,5
1Department of Pathology, 2Department of Urology, Bjelovar General Hospital, Bjelovar; 3Department of Pathology, Merkur University Hospital; 4Department of Pathology, School of Medicine, University of Zagreb; 5Ljudevit Jurak University Department of Pathology, Sestre milosrdnice University Hospital Center, Zagreb, Croatia
Primary testicular non-Hodgkin's lymphoma (TNHL) is the most common testicular malignancy in men over 60 years, although it accounts for only 3%-9% of all testicular malignancies and 1%-2% of all non-Hodgkin's lymphoma. It is the most common bilateral testicular tumor with a tendency of spreading to other extranodal sites. Morphologically, diffuse large B-cell lymphoma comprises approximately 80%-90% of all TNHL. We present a case of bilateral testicular diffuse large B-cell lymphoma. An 84-year-old male was admitted to the hospital for clinical assessment of a bilateral testicular mass. On scrotal ultrasound, the testes were enlarged and inhomogeneous in structure. Bilateral orchidectomy was performed. Grossly, the majority of testicular parenchyma in both specimens was replaced with fleshy, lobulated mass, pale-yellow to gray on the cut surface. Microscopically, the testes were diffusely infiltrated with partly necrotic tumor composed of sheets of discohesive, atypical cells showing prominent mitotic activity. In-between these lymphoid cells, there were numerous histiocytes. Immunohistochemically, lymphoid cells showed diffuse expression of LCA, CD 20 and bcl-2. The reaction for PLAP was negative. Proliferative activity measured immunohistochemically with Ki-67 was more than 90%. Molecular analysis showed the presence of c-myc translocation. Histological, immunohistochemical and molecular profile indicated the diagnosis of diffuse large B-cell lymphoma (DLBCL). In conclusion, owing to the rare occurrence in testis, but high recurrence rate, poor prognosis and specific treatment strategies, it is important to identify primary non-Hodgkin's lymphoma among other, more frequent disorders and tumors affecting the testes.
CYTO-HISTOPATHOLOGIC CORRELATION OF LUNG CARCINOMA
M. Šokčević1, I. Pavić3, I. Maričević1, M. Magazin2
1Division of Cytology, Ljudevit Jurak University Department of Pathology, Sestre milosrdnice University Hospital Center; 2Ljudevit Jurak University Department of Pathology, Sestre milosrdnice University Hospital Center, Zagreb, Croatia; 3Division of Cytology, Sveti Duh University Hospital;
                         
In the majority of cases, lung carcinomas are inoperable at the time of diagnosis. Small biopsies are seldom performed and often are nondiagnostic. Cytology frequently remains the sole tissue diagnosis and therefore is important to make cyto-histopathology correlation whenever possible. In the period from January 1, 2000 till December 31, 2003 at the Department of Pulmonology and from January 1, 2004 till December 31, 2011 at Division of Cytology, samples from 2460 bronchoscopies and 288 transthoracic fine needle aspirations were analyzed. In the same period, 93 resected lung specimens were analyzed at Department of Pathology. We found 72 related cytology reports, of which 55 were diagnostic. Correlated diagnoses are shown in the table and 3 of 6 discordant cases are shown in figures. Cytology accurately predicted malignancy in 53/55 cases; in one case of carcinoma, cytology found only atypical cells; in the other case a cytologically suspected carcinoma was found to be aspergilloma on biopsy. In 39 cases, cytology determined the type of carcinoma; in 11 cases non small cell lung carcinoma (NSCLC) and in 4 cases only suspect cells were found. In 35 of 39 cases, the cytologically determined tumor type was concordant with histopathology. Three of the 4 discordant cases were within the non small cell carcinoma group, and one cytology report of atypical carcinoid/microcellular carcinoma was found to be a large cell neuroendocrine carcinoma on biopsy. Histopathology revealed that all 11 cytology reports of NSCLC were various types of NSCLC, most of them high grade carcinomas. In our study, the accuracy of cytology in predicting malignancy was 96.3% and the accuracy in predicting the type of carcinoma 89.7%. The NSCLC group was large (22%) because the distinguishing morphological features are not apparent in poorly differentiated tumor.
FOLLICULAR LYMPHOMA OF THE FALX CEREBRI: CASE REPORT
I. Ilić1, S. Dotlić1, A. Jakovčević1, D. Kolenc1, K. Žarković1, S. Djurić2, M. Vukić2
1University Department of Pathology and Cytology, 2University Department of Neurosurgery, School of Medicine and Zagreb University Hospital Center, Zagreb, Croatia
Intracranial presentation of primary lymphoma is rare, accounting for only 2% of primary intracranial neoplasms. Primary leptomeningeal lymphomas are even more uncommon and are usually of aggressive type, although the majority of leptomeningeal lymphomas reflect the spread of lymphoma from another site. Involvement of dura by primary low grade lymphomas is rarely reported. A 56-year-old female was hospitalized due to sudden onset of left leg palsy and headache. Brain MRI showed an extra-axial tumor mass involving the cerebral falx, extending largely from the frontoparietal region to the tentorium, making a strong impression of meningeoma. Surgery was performed and a large part of the tumor was removed.
Histologically, the tumor was growing in a diffuse manner and was composed mostly of medium sized cells with irregular, angulated nuclei and scant cytoplasm. Among medium sized cells, there were large cells with oval nuclei, several, laterally placed nucleoli and abundant cytoplasm. There were less than five large cells in one HPF. Immunohistochemically, tumor cells stained positive for CD20, CD10, BCL6, BCL2 and negative for CD3, CD5, cyclin D1, MUM-1, confirming the diagnosis of follicular non-Hodgkin's lymphoma grade 1. MSCT of total body showed no evidence of parenchymal central nervous system or systemic tumor either at the time of presentation or throughout the course of the disease. Trephine bone marrow biopsy showed no infiltration by lymphoma. In conclusion, the majority of lymphomas presented as a localized dural mass are low grade mucosa-associated lymphoid tissue (MALT) type B cell lymphomas usually associated with good prognosis. Only two cases of a low grade follicular lymphoma with dural involvement have been previously reported in the literature.
AXIN-1 EXPRESSION IN NORMAL AND IUGR PLACENTAS
A. Vukasović1, D. Grbeša1, T. Nikuševa-Martić2, V. Kušec3, L. Šerman2
1Department of Histology and Embryology; 2Department of Biology, School of Medicine, University of Zagreb; 3Clinical Institute of Laboratory Diagnosis, Zagreb University Hospital Center, Zagreb, Croatia
Axin-1 is an important component of Wnt signaling pathway that binds to Adenomatous Polyposis Coli (APC) protein thus enabling phosphorylation of β catenin by glycogen synthase kinase-3β. This phosphorylation is a crucial step for proteomic degradation of β catenin, hence the most important role of axin is negative regulation of Wnt signaling pathway and a reason to believe it is a tumor suppressor gene. Wnt pathway is very important in the development of normal and pathological pregnancies. The aim of this study was to investigate the axin-1 expression in human placentas of normal pregnancies and compare it with placentas of pregnancies complicated with intrauterine growth restriction (IUGR). Twelve placentas, gestational age 31st to 40th week of normal pregnancies were compared with 10 IUGR placentas matched for gestational age. IUGR diagnosis was based on series of ultrasound examinations during antenatal care with strict exclusion criteria. Fetal weight under 5th percentile adjusted for sex, gestational age and parity according to the national standards was considered significant for IUGR. Additional diagnostic criterion were abnormal Doppler velocity waveforms of umbilical and medial cerebral artery. We used rabbit anti human axin-1 polyclonal antibody (Zymed Labaratories Inc., San Francisco, USA) for immunohistochemical staining. Axin-1 staining density was analyzed by Image Analyzer SFORM (Vamstec). Detected light intensity is reversely proportional to staining results, i.e. protein expressed. The measurements were performed at X100 magnification on 10 consecutive views in the central area of histological section. Nonparametric statistics (Mann-Whitney) was used to compare the results between the two groups of placentas. Immunohistochemistry revealed axin-1 to be located mostly in the cytoplasm of syncytiotrophoblast and to a lesser extent in its nuclei of both groups. Quantification of staining showed a statistically greater density and distribution of axin-1 expression in IUGR placentas (p<0.05). In conclusion, higher expression of axin-1 in IUGR placentas in comparison to normal placentas indicated a role of Wnt signaling pathway in placental developmental pathology.
KIMURA'S DISEASE: CASE REPORT
M. Milković-Periša1, S. Šitić1, M. Perić-Balja1, S. Ramić1, G. Stanić2, F. Knežević1
1Department of Pathology, University Hospital for Tumors, Sestre milosrdnice University Hospital Center; 2Department of Pathology, Sveti Duh University Hospital, Zagreb, Croatia
Kimura's disease (KD) is a chronic inflammatory disorder of unknown etiology. It usually affects young men in their second to third decades of life and it is endemic in Asia. It often presents as a subcutaneous mass of the head and neck with normal overlying skin. It is associated with regional lymphadenopathy and increased serum IgE and eosinophilia. Microscopic examination of the excised specimen showed reactive lymphatic follicles with eosinophilic infiltration, fibrosis, variable hyalinized vessels and increased paracortical plasma cells. A 25-year-old female presented with a history of slowly enlarging solitary mass in the left temporal region. She denied pain and other associated symptoms. She had eosinophilia in peripheral blood. Surgical excision was performed. Gross examination revealed subcutaneous mass measuring 5 cm. Microscopic examination showed lymphatic tissue with reactive lymphatic nodules and eosinophilic infiltration. There were many small vessels and somewhere sclerosis. KD is a rare entity in western countries, but endemic in Asia. This entity was first described in China in 1937, but it became widely recognized in 1948 when Kimura and colleagues described a couple of cases in Japan. The prevalence is unknown, but the majority of reported cases are from Asian countries. A serial cases of patients from the US indicated that patients of all races may be affected and have clinical and histological features indistinguishable from those patients from Asia. Definitive diagnosis of KD is based on histological findings of lymph node architecture with florid germinal center, eosinophilic infiltration and increased amount of postcapillary venules. The main differential diagnosis is angiolymphoid hyperplasia with eosinophilia.
HODGKIN'S LYMPHOMA MIMICKING XANTHOGRANULOMATOUS PYELONEPHRITIS
G. Aralica, S. Bulimbašić, J. Bacalja, A. Pačić, Č. Tomasović-Lončarić, R. Ajduković-Stojsavljević, G. Bedalov, D. Galešić-Ljubanović
Department of Pathology, Department of Internal Medicine and Department of Urology, Dubrava University Hospital, Zagreb, Croatia
Hodgkin's lymphomas (HL) usually arise in lymph nodes and the majority of them clinically manifest in young adults. We present an 81-year-old patient with unexpected diagnosis of HL from radical nephrectomy specimen. The 81-year-old male patient with a history of weight loss and general weakness presented with left-sided lumbar pain that spread towards the abdomen, and was accompanied with dark urine. Laboratory findings showed normocytic normochromic anemia, high serum creatinine and urea levels, leukocyturia, hematuria and bacteriuria. Imaging methods (US and MSCT) revealed enlarged right kidney with signs of nephrolithiasis, hydronephrosis and irregular solid tissue infiltrating perirenal fat. Hydronephrosis of the left kidney was also present. Percutaneous biopsy of the right kidney showed changes that suggested xanthogranulomatous reaction. The patient underwent right-sided nephrectomy 3 days later. On gross examination, the cut surface of the renal parenchyma showed irregular infiltration by solid white tissue that spread into renal pyelon, proximal part of the ureter and fat. Histological and immunohistochemical profile of the tumor was consistent with classic HL. As an incidental finding, there was a small brown tumor measuring 2 cm, with histological and immunohistochemical characteristics of oncocytoma, surrounded and partially infiltrated by HL. The rest of renal parenchyma showed chronic tubulointerstitial changes. Postoperative period was complicated with respiratory failure; the patient fell into cerebral coma and died 24 days later. The autopsy revealed classic HL (stage IV), bilateral pleural effusions, pulmonary edema and right-sided mycotic pneumonia. To the best of our knowledge, the coexistence of HL and solid renal tumors such as renal oncocytoma is very rare. Moreover, this case shows that making diagnosis of HL, although usually straightforward, may be difficult when dealing with a patient of an unusual age and atypical clinical presentation. Caution is especially needed with limited specimen where HL may be misinterpreted as a reactive lesion.
CHANGES IN THE ER, PR AND HER-2 EXPRESSION BETWEEN PRIMARY AND METASTATIC BREAST CANCER AFTER ADJUVANT THERAPY
S. Ramić, M. Perić-Balja, S. Šitić, M. Milković-Periša, F. Knežević
Department of Pathology, University Hospital for Tumors, Sestre milosrdnice University Hospital Center, Zagreb, Croatia
Primary breast cancer is treated according to its ER, PR and HER-2 receptor statuses. The same parameters are carried out in patients who develop metastatic disease after treatment. Since the receptor status of metastatic lesions may occasionally change after treatment, it is crucial to know how frequently that change can occur. The aim of the study was to compare the immunohistochemical expression of ER, PR and HER-2 between the primary breast cancer (PBC) and matched metastatic lesions (MML), and to find out the degree of discordance. The patients received chemotherapy and/or endocrine therapy according to guidelines. ER, PR and HER-2 receptor statuses were retested in metastatic lesions developed after therapy. Out of 37 patients, discordance in hormone receptor status between PBC and MML was observed in 9 (24.3%) and discordance in HER-2 status in 4 (10.8%) patients. Metastatic lesions occurred after a median of 4 (range 1-16) years. Out of 18 cases of PBC with negative ER and PR, four cases of MML expressed changes in ER (22.2%) and five cases in PR (27.7%). In the same group, HER-2 status was changed from negative PBC to positive MML in two (11.1%) cases and from positive PBC to negative MML in 1 (5.5%) case. Three cases with HER-2 positivity in PBC remained positive in MML; 21% of 19 hormone positive PBC changed to hormone negative MML (n=4). ER changed to negative in 4 (21%) cases, while PR changed to negative in 6 (31.6%) cases, but it did not influence the overall hormone receptor status. In only 1 (5.3%)case, negative HER-2 became positive in MML. In conclusion, 35% of MML developed after adjuvant treatment expressed discordance in ER, PR and HER-2 status compared with the primary tumor. These findings should be taken in consideration on treatment decision.
RENAL METASTASIS FROM PULMONARY ADENOID CYSTIC CARCINOMA
L. Labinac-Peteh1, I. Kučinar1, F. Božac2, T. Džombeta3, B. Krušlin3,4
1Department of Pathology, 2Department of Surgery, Pula General Hospital, Pula; 3Department of Pathology, School of Medicine, University of Zagreb; 4Ljudevit Jurak University Department of Pathology, Sestre milosrdnice University Hospital Center, Zagreb, Croatia
Adenoid cystic carcinoma (ACC) is a malignant epithelial neoplasm most commonly occurring in salivary glands. Its occurrence in the lungs is rare, accounting for less than 1% of all lung tumors. Patients frequently develop local recurrence with late metastases, probably because of the infiltrating margins. Metastases from pulmonary ACC to the kidney are extremely rare, with only four cases reported in the literature to date. Here, we report a case of solitary metastasis from pulmonary ACC to the kidney. A 49-year-old male presented with symptoms of obstructive nephropathy with elevated serum creatinine. Computed tomography scan showed an expansive process of the left kidney. Nephrectomy was performed. Grossly, the kidney contained a tumor measuring 7.2 cm in diameter, located in the pelvis, but deeply infiltrating the parenchyma. The tumor was soft, pale yellow on the cut surface. Histologically, it was composed of atypical epithelial cells forming solid nests and tubules surrounded by basement membrane-like material. Foci of perineural invasion and necrosis were seen. A larger branch of renal vein contained tumor thrombus. Medical history revealed right upper lung lobectomy due to a carcinoma three years before. The slides from the aforementioned lung carcinoma were reviewed. Owing to identical histologic appearance, the diagnosis of metastatic adenoid cystic carcinoma from the lung to the kidney was made. In conclusion, the biological behavior of ACC is characterized by multiple recurrences and late metastasis. This case emphasizes the need for long and close clinical monitoring of these patients.
Incidence and types of pathological changes in spleens of splenecotmized dogs in Croatia
M. Vdović, D. Fajdić, M. Hohšteter, A. Gudan-Kurilj, B. Artuković, A. Beck, I.C. Šoštarić-Zuckermann, Ž. Grabarević
Faculty of Veterinary Medicine, University of Zagreb, Zagreb, Croatia
Spleen is one the internal organs most commonly biopsied in the dog. Neoplastic changes account for around one half of splenic lesions, and between one half and two-thirds of these changes are diagnosed as hemangiosarcoma. The most prevalent non-neoplastic causes of spleen enlargement in dogs are hematoma, acquired hemolytic anemia, application of barbiturates, amyloidosis, leishmaniasis and histoplasmosis. The aim of the study was to determine the incidence and types of splenic lesions in biopsied spleen specimens analyzed at Department of Veterinary Pathology from January 2009 till December 2011. Histopathologic analysis of 32 biopsied dog spleens was performed by the routine H&E technique. Some of the samples of neoplastic spleens were analyzed by immunohistochemistry (IHC). IHC markers used were factor VII related antigen for differentiation of blood vessel neoplasms (hemangiosarcoma and hemangioma), vimentin for differentiation of mesenchymal tumors, and CD 3 and CD79 for differentiation of T-cell and B-cell lymphomas. A total of 37 lesions were found in 32 spleens. The most common dog breeds with splenic lesions were (listed in the order of decreasing frequency): mixed, Labrador retriever, Rottweiler, German shepherd, Poodle, Vizsla, Dachshund, and other breeds with single specimens. Splenic lesions were more common in male than female dogs (n=22, 69% vs. n=10, 31%). The mean age of splenectomized dogs was 10.68 (range 3-15) years. Among the examined splenic lesions, 21 (56.76%) were classified as non-neoplastic and 16 (43.24%) as neoplastic. Hematoma was the most frequent non-neoplastic lesion (32.43%). Two cases of chronic perisplenitis and nodular hyperplasia were diagnosed with the incidence of 5.4% each. Other nontumorous changes such as thrombosis and infarction, suppurative splenitis, fibrosis, plasmacytosis, extramedullary hematopoiesis and hemosiderosis were diagnosed as individual cases. Within neoplastic lesions, there were 8 (21.62%) tumors. Hemangiomas and lymphomas had an equal incidence of 5.4%. Fibrosarcoma, malignant fibrous histiocytoma, myelolipoma and myxoma were diagnosed as individual lesions. Analysis of splenic lesions in dogs in Croatia showed that most of the pathological changes in splenectomized spleens were non-neoplastic, most of them hematomas. The types of lesion, breed and sex distribution were consistent with literature data. Hemangiosarcomas accounted for about one half of neoplastic lesions, with IHC being a useful tool for differentiation of these tumors from other types of mesenchymal splenic neoplasia.
EMERGING PATHOGEN – BARTONELLA HENSELAE. FROM LYMPH NODE TO SPLEEN
I. Šimić, M. Tadić, V. Stevanović
Faculty of Veterinary Medicine, University of Zagreb, Zagreb, Croatia
Cat scratch disease (CSD) has been reported in the literature for more than half a century as a syndrome of regional lymphadenopathy and fever. However, it has been only a quarter of a century since Bartonella (B.) henselae was identified as the etiologic agent. B. henselae has a worldwide distribution, with cases of classic Bartonella infection reported in Europe, the United States, Japan, New Zealand and Australia. Cats are the major reservoir of B. henselae, with up to half of domestic cats having antibodies to B. henselae, thus testing seropositive for the bacterium. The spread of infection between cats depends on the arthropod vector Ctenocephalides felis, or the cat flea. Transmission to humans is via cat saliva or cat scratch. 'Typical CSD' refers to the syndrome of isolated lymphadenopathy with fever and no other signs or symptoms. It is the most commonly recognized manifestation of infection with B. henselae. As diagnostic techniques have improved, Bartonella has been found to be responsible for a broad range of clinical syndromes, particularly prolonged fever of unknown origin and hepatosplenic disease. Furthermore, B. henselae is now recognized as an etiological agent causing encephalopathy, ocular disease and many more. B. henselae is the third leading infectious cause of prolonged fever of unknown origin, after Epstein-Barr virus infection and osteomyelitis. Bartonella infection that involves the liver and/or spleen occurs more commonly than previously acknowledged, and is being recognized more frequently as a result of improvements in serologic and imaging diagnostic modalities. Infection simulating lymphoma is one of the most frequently reported, especially with lymphadenopathy in the neck and abdomen. Over the last few decades, much has been learned about the spectrum of the disease resulting from B. henselae infection. As our knowledge of the microbiologic, pathologic and clinical spectrum expands, an increasing number of questions emerge. There has been no updated broad epidemiologic exploration of the various manifestations of the disease. There is a significant gap in our knowledge of effective therapy for more complicated sequels of infection. Finally, clinicians should continue to include Bartonella in the differential diagnosis of prolonged fever, abdominal pain, and many other varied presentations caused by this elusive bacterium.


RENAL CELL CARCINOMA WITH CLEAR CELL AND PAPILLARY FEATURES: A REPORT OF TWO DISTINCTIVE CASES
R. Limani1, I. Brnadić2, M. Tomić3, M. Ulamec4, B. Krušlin4
1Institute of Pathology, Faculty of Medicine and University Clinical Center of Kosova, Kosovo; 2Department of Pathology, Karlovac General Hospital, Karlovac; 3Department of Urology, 4 Ljudevit Jurak University Department of Pathology, Sestre milosrdnice University Hospital Center, Zagreb, Croatia
Renal cell carcinomas composed of clear cell and papillary features are rare tumors that commonly present a diagnostic challenge. Herein, we report on two cases of these tumors. According to the 2004 World Health Organization classification of renal tumors, these cases were diagnosed as unclassified renal cell carcinoma composed of both clear cell and papillary renal cell carcinoma. First case was a 61-year-old woman and the second was a 56-year-old man who underwent radical nephrectomy due to a renal tumor mass. Histologically, both tumors were composed of papillary and tubular structures lined with a single layer of atypical cuboidal epithelial cells with uniform nuclei and prominent nucleoli. Solid growths of epithelial cells with clear cell cytoplasm and low grade nuclei were also noted. In second case, the tumor invaded renal pelvis, ureter and renal perihilar fat. Histologically, it also had interspersed psammoma bodies and atypical epithelial cells with abundant eosinophilic cytoplasm, and a high nuclear grade. Renal cell carcinomas presenting with clear cell and papillary features require careful morphological, immunohistochemical and, in some cases, molecular genetic examination, in order to make the correct diagnosis. These tumors have distinct biologic behaviors, and in recent literature they are proposed as new entities, clear cell papillary renal carcinomas.
(PERI)RENAL DIFFUSE LARGE B-CELL NON-HODGKIN'S LYMPHOMA: REPORT OF TWO CASES
S. Cesarec1, B. Spajić2, D. Tomas3, D. Trnski2, B. Krušlin1,3
1Department of Pathology, School of Medicine, University of Zagreb; 2Department of Urology and 3Ljudevit Jurak University Department of Pathology, Sestre milosrdnice University Hospital Center, Zagreb, Croatia
Perirenal involvement in lymphoma usually occurs due to contiguous spread from retroperitoneal or renal lymphoma. The occurrence of isolated lymphoma in the perirenal space is very unusual (<10% of cases of perirenal lymphoma). Renal involvement in lymphoma is much more common in non-Hodgkin's disease, with the majority of patients having intermediate or high-grade lymphomas of B-cell origin. A 72-year-old male presented with pain in his left upper abdomen, as well as swelling and feeling of fullness. CT scan of the abdomen revealed a left perirenal tumor mass and peritoneal fluid excess. Radical left nephrectomy was performed. Grossly, the kidney with perirenal fat tissue measured up to 12 cm. A poorly circumscribed, whitish tumor, measuring 6 cm in diameter was found, located on one pole of the kidney and in the surrounding fat tissue. In the second case, a 53-year-old patient was hospitalized because of the explorative abdominal surgery. Abdominal CT scan revealed a tumor mass measuring up to 3.5 cm in diameter, located in the left side of the pelvis, with infiltration of the left kidney. Histologically, both tumors were composed of sheets of atypical, medium to large lymphoid cells showing abundant mitotic activity. Tumor cells showed diffusely positive immunohistochemical reaction for CD 20 and focally positive for bcl-2. Proliferative activity measured immunohistochemically with Ki-67 was around 90% to 50%, respectively. Clinical data, histological appearance and immunohistochemical profile suggested the diagnosis of diffuse large B-cell non-Hodgkin's lymphoma in both cases. Patients were treated with combination chemotherapy. Additional CT scan of the thorax in both patients revealed mediastinal lymphadenopathy (first case) and a tumor mass in hilus of the right lung (second case). In conclusion, renal involvement in non-Hodgkin's lymphoma is usually seen as part of disseminated disease. The reported incidence is as high as 47% in autopsy series of lymphomas but clinically recognized in only up to 15% of patients. It is critical for pathologists, urologists and oncologists to be aware of the possibility of lymphoma arising in these sites.
APOPTOTIC MARKERS Bax, Bcl-2 AND p53 IN RENAL ONCOCYTOMA AND CHROMOPHOBE CARCINOMA
M. Bezjak1, M. Ulamec2, A. Demirović2, M. Belicza2, B. Krušlin1,2
1Department of Pathology, School of Medicine, University of Zagreb, Zagreb, Croatia; 2Ljudevit Jurak University Department of Pathology, Sestre milosrdnice University Hospital Center, Zagreb, Croatia
Chromophobe carcinoma accounts for approximately 5% of all renal tumors, has a less aggressive course, but still maintains its metastatic potential. On the other side of the spectrum is oncocytoma, a benign tumor which accounts for 3%-9% of all renal tumors. In some cases, the distinction between chromophobe carcinoma and oncocytoma, based only on histologic appearance, is almost impossible. Considering the different biological behavior, differentiation of these is extremely important. Bcl-2 is a protein that has an inhibitory role in apoptotic pathway, while bax acts as its antagonist and promotes cell death. p53 is an apoptotic promoter, whose mutated form with loss of function has been found in a number of tumors. The aim of this study was to determine the immunohistochemical expression of bcl-2, bax and p53 in these two tumor groups and to compare it with apoptotic count assessed on hemalaun-eosin stained sections. Thirty-three samples of oncocytoma and 28 samples of chromophobe carcinoma, taken from the archive of Ljudevit Jurak University Department of Pathology, were examined. We found a statistically significant difference in the number of apoptotic cells, with oncocytomas having higher apoptotic count. All samples of chromophobe carcinoma and oncocytoma showed positive immunohistochemical reaction for bcl-2, with no differences between the two groups. Low expression of p53 was found in both groups, also statistically insignificant. Expression of bax was higher in oncocytomas, which may be related to the higher apoptotic count.
NON-HODGKIN'S LYMPHOMA OF URINARY BLADDER
I. Kolač-Damjanović1, M. Ulamec2, I. Tomašković3, B. Krušlin2,4
1Department of Pathology, Dr. Josip Benčević General Hospital, Slavonski Brod; 2Ljudevit Jurak University Department of Pathology, 3University Department of Urology, Sestre milosrdnice University Hospital Center; 4Department of Pathology, School of Medicine, University of Zagreb, Zagreb, Croatia
Lymphomas arising in the urinary tract and male genital organs account for less than 5% of extranodal lymphomas. Lymphomas of the bladder represent approximately 0.2% of the primary neoplastic lesions. The incidence of secondary involvement of the urinary bladder in lymphoma/leukemia is 10%-20%. The majority of bladder lymphomas are marginal zone lymphomas of mucosa-associated lymphoid tissue. A 46-year-old male patient presented with hematuria and flank pain. Computed tomography scan and intravenous urography revealed a tumor mass in the urinary bladder. Transurethral resection was performed. Three samples of bladder wall were sent for histopathologic analysis. Histologically, all samples were covered with urothelium showing reactive atypia with cystically dilated von Brunn's nests, suggesting the diagnosis of cystitis cystica. Lamina propria and muscular layer were diffusely infiltrated with numerous small- to medium-sized uniform cells, showing abundant mitotic activity (3/HPF). Some larger cells with vesicular nucleus and peripherally set nucleolus were found in-between. These cells were immunohistochemically positive for CD 20 and bcl-2, while other markers were negative (bcl-6, CD 5, CD 3, CD 10). Proliferative activity measured immunohistochemically with Ki-67 was up to 5%. Based on the clinical data, histology and immunohistochemical profile, the diagnosis of primary B-phenotype non-Hodgkin's lymphoma of the urinary bladder was made. One year after chemotherapy treatment, the patient is well, without any signs of recurrence. In conclusion, primary lymphomas of the bladder are rare, as opposed to secondary involvement in advanced stages of systemic disease, which is rather common. Mucosa associated lymphoid tissue (MALT) lymphoma is the most common primary lymphoma involving the bladder. The prognosis of this type of lymphoma is good, with extremely low mortality rates.
NODAL MARGINAL ZONE LYMPHOMA IN A PATIENT WITH ANTIPHOSPHOLIPID SYNDROME
K. Matušan-Ilijaš1, B. Grahovac1, A. Duletić-Načinović2, S. Novak2, K. Lučin1, N. Jonjić1
1Department of Pathology, School of Medicine, University of Rijeka; 2Department of Hematology and Immunology, Rijeka University Hospital Center, Rijeka, Croatia
Antiphospholipid syndrome is a disorder mediated by the characteristic antiphospholipid antibodies with subsequent arterial and venous thromboembolic incidents. There is increasing evidence of an association between autoimmune events on the one hand and lymphoproliferative disorders on the other hand. The association of antiphospholipid syndrome and splenic marginal zone lymphoma is recognized, but according to our knowledge the association with nodal marginal zone lymphoma has not yet been documented. We present a case of a 64-year-old female with abnormal coagulation test, admitted to Rijeka University Hospital Center for surgical excision of a slow-growing tumor mass of the left femoral region. Pathologic analysis of surgical specimen revealed an increased lymph node measuring 4 cm in greatest dimension. Histological, immunohistochemical and molecular analysis confirmed the diagnosis of nodal marginal zone non-Hodgkin's lymphoma, while serologic testing revealed the presence of lupus anticoagulants and anticardiolipin antibodies, whereas antinuclear antibodies were negative. Activated partial thromboplastin time and factors V, VII and X were decreased. This case presented synchronous appearance of a specific type of non-Hodgkin's lymphoma and antiphospholipid syndrome, thus highlighting the importance of targeted diagnostic work-up in non-Hodgkin's lymphoma patients with coagulation disorder in order to exclude the possibly associated antiphospholipid syndrome.
EGFR EXPRESSION IS LINKED TO OSTEOPONTIN AND NF-κB SIGNALING IN CLEAR CELL RENAL CELL CARCINOMA
K. Matušan-Ilijaš1, G. Damante2, D. Fabbro3, G. Đorđević1, I. Hadžisejdić1, M. Grahovac4, M. Avirović1, B. Grahovac1, N. Jonjić1, K. Lučin1
1Department of Pathology, School of Medicine, University of Rijeka, Rijeka, Croatia; 2Department of Biomedical Sciences and Technologies, University of Udine, 3Santa Maria della Misericordia University Hospital, Udine, Italy; 4Department of Dermatology, Ludwig-Maximilians-University Munich, Munich, Germany
Epidermal growth factor receptor (EGFR) is a tyrosine kinase receptor involved in many important aspects of cell biology that are related to tumorigenesis. There is opposite evidence for the role of EGFR in renal cancer and outcome of EGFR-targeted therapies, suggesting the complexity of EGFR signaling pathways. In vitro, osteopontin (OPN) and nuclear factor kappa B (NF-κB) are thought to be involved in specific ligand-independent EGFR activation that could have a role in resistance to EGFR mAb therapy. The aim of this study was to analyze the relationship between EGFR and OPN at the protein and mRNA level, as well as their relation to NF-κB in clear cell renal cell carcinoma (CCRCC). Expression of EGFR, OPN and p65 NF-κB protein was analyzed using immunohistochemistry and compared mutually in 88 CCRCC samples. Expression of EGFR and OPN mRNAs was analyzed using quantitative real-time PCR in 22 CCRCC samples and compared mutually and with NF-κB protein expression. EGFR mRNA level was higher in CCRCC samples in comparison with normal renal tissue (p=0.012) and was associated with high OPN mRNA level and with NF-κB activation (p<0.001 and p=0.045, respectively). Immunohistochemical staining showed inverse association; high EGFR protein expression was related to low OPN and NF-κB protein expression (p<0.001 and p=0.047, respectively). EGFR gene is up-regulated in CCRCC and associated with OPN gene expression and NF-kB signaling. The inverse relation between OPN and EGFR at the protein level could probably reflect dynamic changes that EGFR undergoes following activation.
B CELL AND PLASMA CELL PROLIFERATION IN NODAL T CELL LYMPHOMAS
G. Gašljević, B. Grcar-Kuzmanov
Department of Pathology, Institute of Oncology, Ljubljana, Slovenia
B cell and plasma cell proliferation has been recognized in AILT and PTCL, NOS. Morphologically, these B cell expansions are characterized by a spectrum of lesions ranging from isolated or small clusters of large activated B cells to overt diffuse large B cell lymphomas. Occasionally, small B cell proliferations, nodal plasmacytomas or presence of large, atypical B cells with the morphology and phenotype of Reed-Sternberg cells could be seen. We report on three cases of nodal T cell lymphomas, PTCL- NOS, with synchronous overt B cell neoplasms of different types. Three tissue samples (lymph nodes) of formalin-fixed and paraffin embedded tissue were studied by H&E, immunohistochemistry, ISH for EBV, and molecular studies for IgH and TCR rearrangements. Clinical data including clinical presentation were obtained from the referring clinicians. For one patient, results of flow cytometry from lymph node aspiration biopsy were available. In three patients with PTCL, NOS different types of concomitant overt B cell neoplasms were found, i.e. diffuse large B cell lymphoma, lymphoplasmacytic lymphoma and plasmacytoma. Some of them practically obscured underlying T cell proliferation. In conclusion, B cell expansions in T cell lymphomas could be so pronounced that they can completely obscure underlying T cell lymphoma. Pathologists should consider the possibility of concomitant T and B cell neoplasms with or without plasmacytic/plasmablastic differentiation in any case of neoplastic B cell proliferation with unusual histologic picture. Cautious study of morphology, together with wide immunohistochemical panel, flow cytometry, molecular studies and exact clinical data can help set up an accurate diagnosis.
HISTONE MODIFICATION H3K9 IN CLASSIC HODGKIN'S LYMPHOMA
S. Gašparov1,2, P. Korać1,2, T. Horvat3, V. Zoldoš3, S. Ostojić-Kolonić4, M. Dominis1,2
1School of Medicine, University of Zagreb; 2Department of Pathology and Cytology, Merkur University Hospital; 3Faculty of Science, Department of Molecular Biology, University of Zagreb; 4University Department of Medicine, Merkur University Hospital, Zagreb, Croatia
The majority of classic Hodgkin's lymphoma cells are believed to be derived from mature B lymphocytes from germinal center. The number of tumor cells is relatively low, surrounded by dense populations of non-tumor cells. Specific prognostic markers are not known, but a substantial number of studies point out microenvironment as the most likely key player for the course of the disease. In this study, the aim was to assess whether the expression of histone modifications H3K9ac and H3K9me2 in tumor cells could be related to different outcomes of this entity. Furthermore, the correlation of histone expression and microenvironment cell subpopulations was also assessed. FFPE lymph node sections from 120 patients with classic Hodgkin's lymphoma were obtained and immunohistochemically tested for the presence of H3K9ac and H3K9me2 histone marks in tumor cells. The presence and number of surrounding cells were characterized by immunohistochemical analysis for marker antigens (granzyme B for cytotoxic T cells, FOXP3 for regulatory T cells, CD68 for macrophages). Statistical tests were used to compare the data obtained with clinical characteristics of each patient. The level of statistical significance was set at P<0.05. Results showed the granzyme B positive cytotoxic T cells to be more abundant in tumor microenvironment that contained a higher number of tumor cells producing H3K9ac, a histone mark generally reflecting gene activation. H3K9me2, a mark of inactive chromatin, was highly expressed in the majority of tumor cells found in the microenvironment that contained a high number of CD68 positive macrophages as well as a high number of FOXP3 positive regulatory T cells. A higher number of tumor cells expressing H3K9me2 were also observed in patients with lower Ann Arbor and GHSG scores, as well as in tissue sections of patients who were alive by the end of the study. The data presented suggest an important role of H3K9me2 histone modification in classic Hodgkin's lymphoma. It could have a role in tumor cell pathways that result in slower and less aggressive disease development. These pathways might be triggered by microenvironmental signals mostly induced by regulatory T cells and macrophages.
IMPACT OF RNA INTERFERENCE WITH STEMNESS GENE EXPRESSION IN EXPERIMENTAL MOUSE TERATOMA GROWN IN VITRO
N. Sinčić1, A. Gospodinov2, M. Vlahović1, G. Jurić-Lekić3, F. Bulić-Jakuš1
1Department of Medical Biology, School of Medicine, University of Zagreb, Zagreb, Croatia; 2Institute of Molecular Biology, Bulgarian Academy of Sciences, Sofia, Bulgaria; 3Department of Histology and Embryology, School of Medicine, University of Zagreb, Zagreb, Croatia
RNA interference provides an epigenetic mechanism that has been used in targeted silencing of gene expression at the mRNA level for therapy of human diseases (e.g., wet macular degeneration with bevasiranib-siRNA against VEGF). The aim of the study was to discover the impact on developmental parameters of experimental mouse teratoma by silencing expression of stemness (Oct3/4, Nanog) and Trrap genes. E7,5 C3H mouse embryos were isolated under the dissecting microscope and grown at the air-liquid interface in a serum-supplemented medium for seven days. Their axes were measured each day from the beginning of the 7-day culture period by an ocular micrometer to assess overall growth of the tumor. esiRNAs were constructed according to the following sequences: Oct3/4 (NM_013633.1), Nanog (XM_132755.3), Trrap (NM_133901.2), GFP (132-591) as a negative control. They were applied to the medium by lipofectamine 2000. In teratomas, derivatives of all three germ layers were discovered: epidermis, neural tissue, vegetative ganglionic cells, smooth muscle, myotubes, cylindrical epithelium and gastric epithelium with cells typical for the fundic region (parietal and chief cells). In comparison to control, esiOct3/4 and especially esiNanog had a significantly diminished overall growth of teratomas. EsiTrrap did not significantly diminish overall growth, but it seemed to have induced major apoptotic activity. Therefore, it is possible that silencing of the stemness genes had an impact on cell proliferation. On the other hand, in esiTrapp treated teratomas where stemness genes were not silenced, they probably could compensate for overall growth through cell proliferation despite the seemingly pronounced apoptotic activity.
5-AZACYTIDINE IMPAIRS MAMMALIAN LIMB BUD DEVELOPMENT EX VIVO 
V. Mužić1,2, A. Katušić1, M. Himelreich3, Lj. Šerman1, Ž. Majić1, N. Sinčić1, M. Vlahović1, G. Jurić-Lekić3, F. Bulić-Jakuš1
1Department of Medical Biology, School of Medicine, University of Zagreb; 2Department of Rehabilitation and Orthopedic Devices, Zagreb University Hospital Center;
3Department of Histology and Embryology, School of Medicine, University of Zagreb, Zagreb, Croatia
The epigenetic therapeutic DNA demethylating agent 5-azacytidine (Vidaza) has been approved for treatment of the myelodysplastic syndrome in all 5 FAB forms. We have been investigating its influence on the developmental potential of rat limb buds in an organ culture system ex vivo. Fisher rat fore- and hind-limb buds were removed under the dissecting microscope from 13- and 14-day-old embryos and placed on a lens paper supported by a stainless steel grid, where they spent three days or two weeks at the air-liquid interface. Eagle's MEM was supplemented with 50% rat serum and used alone or with 5 μm 5-azacytidine. Two limb bud axes were measured. Samples were processed by routine histology and uninterrupted serial sections were stained by HE, Masson trichrome or Azan stain. PCNA expression was immunohistochemically assessed and strereologically quantified. In isolated limb buds, immature epithelium, mesenchyma, myotubes and different stages of angiogenesis such as single hemangioblasts, hemangioblast aggregates, blood islands and capillaries filled with erythroblasts were present. During the 3-day culture period, stratified epithelium and cartilage differentiated, but differentiated striated muscle was not observed. In limb buds that spent two weeks in culture, necrosis and absence of angiogenesis together with keratinization of the stratified epithelium were discovered. Limb buds treated with 5-azacytidine were smaller than controls and numerical density of PCNA expression was lower. It is concluded that developmental parameters which can be assessed in this mammalian ex vivo model system make it appropriate to screen for embryotoxic and teratogenic substances such as the epigenetic drug 5-azacytidine used in this study.
ASSESSMENT OF BONE MARROW INFILTRATION BY FINE NEEDLE ASPIRATION BIOPSY IN MONOCLONAL PLASMA CELL DISORDERS
P. Šenjug1, D. Švenda2, Č. Tomasović Lončarić1, T. Štoos-Veić3, G. Aralica1,V. Pejša4, O. Jakšić4
1Department of Pathology, Dubrava University Hospital; 2medical student, School of Medicine, University of Zagreb; 3Department of Clinical Cytology and Cytometry, 4Department of Hematology, Dubrava University Hospital, Zagreb, Croatia
Accurate assessment of bone marrow infiltration rate is essential for diagnosis and assessment of therapeutic response in monoclonal plasma cell disorders. The aims of the study were to compare infiltration rates estimated by bone marrow trephines (BMT) and bone marrow aspirates (BMA) and to investigate the influence of cytologic smear type on the assessment. The study was designed as a retrospective chart review of patients processed at Dubrava University Hospital (at the stage of diagnosis or at assessment of therapeutic response) in the period from January 2008 to September 2011. Analysis was performed on 53 consecutive specimens. There were 19 male and 34 female patients with median age of 68 years. Bone marrow infiltration rate evaluated on BMT was presented as percentage of CD138 positive cells and on BMA as percentage of plasma cells. The mean percentage of CD138+ cells in bone marrow was 45.6% (min. 10%, max. 90%) and mean percentage of plasma cells (by BMA) was 36.1% (min. 4.5%, max. 86%). The mean difference between infiltration on BMT and BMA report was 9.5% (95%CI 3.9-15.0). Differences in the methods of BMA preparation may result in inconsistencies in disease diagnosis or classification. When BMA specimens were separated into two groups, depending on the type of smear (myelogram counting in squash or particle crush smears or in thin smears), there was significant difference between the two groups (t-test for independent samples by groups, p<0.05). There was no significant difference between BMA reports counted in squash smears and BMT reports (mean difference 3.2; 95%CI -3.8-10.3). On the other hand, there was significant difference between BMA report counted on thin smears and BMT reports (mean difference 16.0; 95%CI 7.5-24.4). We showed that there was difference in BMT and BMA assessment of the plasma cell infiltration rate of bone marrow and that BMA assessment depends on the type of cytologic smear. Myelogram counting in squash smears proved to be more similar to BMT.
EXPRESSION OF NESTIN IN TESTICULAR BIOPSY OF INFERTILE PATIENT WITH SEMINOMA
V. Kozina1, I. Krhen2, M. Kordić3, D. Ježek1
1Department of Histology and Embryology, School of Medicine, University of Zagreb; 2University Department of Urology, Zagreb University Hospital Center, Zagreb, Croatia; 3University Department of Urology, Mostar University Hospital, Mostar, Bosnia and Herzegovina
Nestin is an intermediate filament type VI expressed in many types of cells during embryonic development. After differentiation, nestin becomes down-regulated and replaced by tissue-specific intermediate filament proteins. Expression of this protein is re-induced in the adult during pathological conditions, such as the formation of a glial scar after central nervous system injury and during regeneration of injured muscle. The aim of this study was to compare the expression of nestin in control testicular biopsy specimens and in testicular biopsy of an infertile patient with seminoma. Five μm thick sections of the testicular tissue fixed with Bouin's solution and embedded in paraffin were deparaffinized in xylene and then rehydrated in descending series of alcohol. After rinsing in water, an antigen retrieval procedure followed. Briefly, the slides were transferred to a plastic jar containing citrate buffer (pH 6, molarity 0.01 M), heated  in an MW oven for 2.5 minutes at 850W and 30 minutes at 125 W and left to cool down. Sections were immunostained with monoclonal antibody anti-nestin, clone 10C2 (Millipore, Billerica, USA), 1:100 diluted. The immunohistochemistry staining was proceeded using HRP-DAB system mouse kit (R&D, Minneapolis, USA). In agreement with previous results, control specimens expressed nestin in endothelial cells of some (usually smaller) blood vessels. Few spindle-shaped Leydig cells in the close proximity of seminiferous tubules were also positive. Biopsy specimens of the patient with the tumor of the testis showed, besides seminoma, some areas of preserved as well as damaged spermatogenesis. The preserved areas were cryo-conserved for potential TESE/ICSI procedure/s. In the areas nearby the tumor, nestin was strongly expressed in the majority of primary and secondary spermatocytes as well as round and elongated spermatids. Spermatogonia and Sertoli cells were negative. As in control specimens, some blood vessels and peritubular Leydig cells were positive for nestin. Previously published data have indicated that nestin is a good marker for identifying components of testicular teratomas. Our results pointed out that nestin could be a good marker for a wider range of testicular neoplasms.
A CASE OF DIABETIC HEPATOSCLEROSIS: A RARE FORM OF NONALCOHOLIC FATTY LIVER DISEASE
I. Pavić1, V. Nikić2, D. Baličević1
1Ljudevit Jurak University Department of Pathology, Sestre milosrdnice University Hospital Center; 2Division of Cytology, Ljudevit Jurak University Department of Pathology, Sestre milosrdnice University Hospital Center, Zagreb, Croatia
Liver disease associated with diabetes mellitus (DM) is common and usually takes the form of simple steatosis or nonalcoholic steatohepatitis. In 2006, Harrison et al. described changes in liver biopsies in insulin-dependent diabetes mellitus, characterized by dense perisinusoidal fibrosis not necessarily located in a zonal pattern, thickening of hepatic arterioles in concentric layers of basement membrane and lacking other features commonly seen in nonalcoholic steatohepatitis such as steatosis and hepatocellular ballooning, and called them diabetic hepatosclerosis (DHS). Patients with long-standing diabetes mellitus undergoing liver biopsy can show rare form of nonalcoholic fatty liver disease. We present typical changes of DHS in a 40-year-old male patient who underwent liver biopsy to evaluate fatty changes of the liver. Laboratory findings showed slightly elevated liver transaminases, elevated alkaline phosphatase, and slightly increased oral glucose tolerance test. There was mild creatinine increase, while body mass index was not increased. Family and patient history of DM was negative, and the patient denied alcohol abuse. He underwent liver biopsy. Hematoxylin-eosin and trichrome staining (Mallory, Orcein) slides of liver biopsy were evaluated for the degree of fatty liver changes. We did not find any fatty liver change and hepatocellular ballooning. Liver biopsy slides showed non zonal dense perisinusoidal fibrosis, slight perivenular fibrosis and marked thickening of the branches of hepatic artery in a concentric layer fashion. DHS diagnosis was taken in consideration but without any confirmative diagnosis from clinicians. DHS may represent a hepatic form of microvascular disease in DM; the prevalence of 12% in an autopsy series suggests it is not uncommon, but in the majority of cases it was clinically silent and can pose difficulties when analyzing liver biopsies.
EXPRESSION OF BCL1, CD20, PAX5 AND OCCURRENCE OF t(11;14)(Q13,Q32) AND PAX5(9P13) TRANSLOCATION IN MULTIPLE MYELOMA AND MONOCLONAL GAMMOPATHY OF UNDETERMINED SIGNIFICANCE ASSESSED BY IMMUNOHISTOCHEMISTRY AND interphase FISH
A. Škrtić1,2, P. Korać1,2, D. Radić-Krišto3, R. Ajduković-Stojisavljević4, D. Ivanković5, M. Dominis1,2
1School of Medicine, University of Zagreb; 2Department of Pathology and Cytology, 3University Department of Medicine, Merkur University Hospital; 4University Department of Medicine, Dubrava University Hospital; 5Department of Medical Statistics, Epidemiology and Medical Informatics, Andrija Štampar School of Public Health, School of Medicine, University of Zagreb, Zagreb, Croatia
Multiple myeloma (MM) and monoclonal gammopathy of undetermined significance (MGUS) share phenotypic profile and similar genomic aberrations but rarely MGUS progresses into overt MM. We investigated expression of BCL1, CD20 and PAX5 in bone marrow trephine biopsies of 80 newly diagnosed MM and 20 MGUS patients using immunohistochemical methods. Immunohistochemical results were compared with morphological characteristics of tumorous plasma cells (PC) in bone marrow, the presence of t(11;14)(q13,q32), and PAX5(9p13) translocation, clinical and laboratory data, as well as overall survival in MM patients. MGUS expressed BCL1 in 6/20 (30%) and CD20 in 7/20 (35%) cases, while PAX5 was negative. MM expressed BCL1 in 32/80 (40%), CD20 in 14/80 (17.5%) and PAX5 in 5/80 (6.3%) cases. t(11;14)(q13,q32) was found in 3/20 (15%) MGUS and 11/18 (14%) MM cases. PAX5(9p13) translocation was observed in 2/20 (10%) MGUS and 14/77 (18%) MM cases. Upon progression of disease from MGUS to MM (seen in 4 patients), analysis of subsequent bone marrow biopsies showed BCL1 expression and PAX5 expression in one patient each. CD20 was negative in the second biopsy of the third patient. Consistent chromosomal changes were found in subsequent biopsies. MGUS and MM showed no significant difference in either BCL1, CD20 and PAX5 expression or chromosomal changes in tumorous PC. In contrast, MGUS and MM differed according to type of infiltration of tumorous PC in bone marrow with significant occurrence of diffuse pattern in MM (P<0.001). In MM patients with Durie Salmon (DS) stage III (A or B) significant occurrence of PAX5(9p13) translocation (P=0.002) and  Bartle's stage III of PC (P=0.046) was found. After a median follow-up of 20.3 months, MM patients with DS stage III (A or B) had a statistically shorter overall survival (P=0.046). PAX5(9p13) translocation presented a prognostic factor with a statistically shorter survival in MM patients (P=0.048). In conclusion, aberrant BCL1 expression in tumorous PC may be the result of the PC neoplasm biology; it did not correlate with t(11;14)(q13;q32) suggesting other mechanisms involving aberrant protein expression. Although no correlation between CD20 and PAX5 expression was found, different expression in MGUS and MM as well as aberrant expression in cases showing progression of MGUS into MM might suggest errors in B cell differentiation as well as in disease progression. The similar occurrence of PAX5(9p13) translocation in MGUS and MM plasma cells may indicate its early occurrence in the pathogenesis of PC neoplasm. Study results may implicate the role of PAX5(9p13) translocation in the pathogenesis of MM, whereas the expression of PAX5 protein represents just residual product of earlier PAX5(9p13) gene expression, which in turn does not inhibit differentiation of PC.
EXPRESSION AND PROGNOSTIC SIGNIFICANCE OF EPIDERMAL GROWTH FACTOR RECEPTOR FAMILY IN BREAST CANCER
S. Ramić1, L. Hiršl1, F. Paić2, Z. Legčević2, V. Benković3, F. Knežević1
1Department of Pathology, University Hospital for Tumors, Sestre milosrdnice University Hospital Center; 2Laboratory of Epigenetics and Molecular Medicine, Department of Biology, School of Medicine, University of Zagreb; 3Department of Animal Physiology, Biology Division, Faculty of Science, University of Zagreb, Zagreb, Croatia
The epidermal growth factor receptor family (HER) of tyrosine kinase receptors includes HER-1, HER-2, HER-3 and HER-4 with the ability to dimerize after activation. HER-2 is over-expressed in 15%-25% of breast cancers with worse prognosis. HER-2 interaction with other receptors can influence the response of breast cancer targeted therapy. Other HER receptors are not routinely tested. We determined immunohistochemical expression of HER-1, HER-3 and HER-4 on 40 HER-2 positive and 42 HER-2 negative breast cancer biopsies. There was no statistically significant correlation of HER-1 and HER-2; 77.5% of HER-2 positive tumors had strong co-expression of HER-3 compared with 7.1% of HER-2 negative cases. HER-3 over-expression is correlated with poor prognostic factors such as negative estrogen and progesterone receptor and positive nodal status. HER-3 receptor was active in proliferating tumor cells with negative HER-2. HER-4 receptor showed controversial results. HER-2 negative tumors had stronger expression of HER-4 compared with HER-2 positive cases. HER-4 is associated with favorable prognostic factors such as positive estrogen receptor, low HER-2 and HER-3, but when co-expressed with HER-2 it correlates with positive nodal status. In conclusion, HER family receptors are co-expressed in breast cancer. Co-expression of HER-2 with HER-3 is associated with poor prognosis of breast cancer. Since a few tyrosine kinase inhibitors are available for breast cancer therapy, there is the need for detection of all HER receptors in breast cancer. Further analysis and methodology optimization must be considered.
CARCINOMA OF COLLECTING DUCTS OF BELLINI – AN UNUSUAL PRESENTATION WITH MULTIPLE METASTASES TO THE SMALL INTESTINE
P. Sesar1, I. Pavić2, H. Čupić2, D. Tomas2
1Doctor Ivo Pedišić General Hospital, Sisak; 2Ljudevit Jurak University Department of Pathology, Sestre milosrdnice University Hospital Center, Zagreb,
Croatia
Collecting duct carcinoma is rare, accounting for <1% of renal malignancies, with male to female ratio 2:1. The tumor is usually located in the central region of the kidney and measures between 2.5 and 12 cm. On the cut surface it typically has a firm grey-white appearance with irregular borders; histologically it presents in a tubular or tubulopapillary growth pattern in which irregular angulated glands infiltrate renal parenchyma. The diagnosis of collecting duct carcinoma is often difficult and to some extent is one of exclusion in which differential diagnosis includes papillary renal cell carcinoma, adenocarcinoma or urothelial carcinoma with glandular differentiation arising in renal pelvis, and metastatic adenocarcinoma. Metastases to regional lymph nodes, lung, liver, bone and adrenal gland are common, and sometimes gross renal vein invasion is seen. Solitary metastases to other sites are uncommon, while multiple metastases are even less common. We present a case of small intestine multiple metastases from collecting duct carcinoma in a 44-year-old male patient six months after initial nephrectomy. Primary tumor in the kidney was recognized as collecting duct carcinoma due to the above mentioned histological appearance and additional immunohistochemical analysis (cytokeratin 7, pancytokeratin, vimentin). Clinically, metastases presented as intestinal obstruction, bleeding and progressive weight loss up to 15 kg. Control abdominal and pelvis CT scan was unremarkable. Anterograde enteroscopy in the middle third of the jejunum verified neoplastic proliferation. The patient underwent surgery. Two segments of 12 and 18 cm of small intestine admitted at pathology revealed three nodular tumors measuring 2.5, 5 and 9 cm, histologically and immunohistochemically (pancytokeratin, cytokeratin 7 and vimentin) suggestive of small intestine multiple metastases of collecting duct carcinoma. Small intestinal metastases were located in muscularis propria, and angulated glands grew in a tubular growth pattern. To our knowledge, 21 cases of small intestinal metastases from renal cell carcinoma have been reported in the world literature, but none of them described as distant metastases from collecting duct carcinoma. Collecting duct carcinoma is a highly aggressive neoplasm with poor prognosis and about two-thirds of patients die within two years of diagnosis.
COATS' DISEASE: THE MOST IMPORTANT DIFFERENTIAL DIAGNOSIS OF RETINOBLASTOMA
P. Radulović1, H. Čupić1, R. Iveković2, C. Lež3, L. Pažanin1
1Ljudevit Jurak University Department of Pathology, 2University Department of Neurosurgery, Sestre milosrdnice University Hospital Center, Zagreb; 3Department of Pathology, Zabok General Hospital, Zabok, Croatia
An 8-month-old boy presented with leukokoria of the left eye. Ocular examination and funduscopy revealed retinal detachment in the upper and lower temporal region and no glaucoma. Computed tomography disclosed total exudative retinal detachment in all four quadrants of the affected eye. Ultrasonography showed intrabulbar calcifications in temporal region. The eye was enucleated and histopathologic evaluation disclosed total exudative retinal detachment. The subretinal fluid was composed of eosinophilic material with cholesterol clefts and lipid-laden macrophages. In addition to other findings, the finding of telangiectatic retinal vessels confirmed the diagnosis of Coats' disease. Coats' disease is a non-hereditary ocular disease, with no systemic manifestation, first described by Coats in 1908. It occurs more commonly in children and has a clear male predominance. Most patients present clinically with unilaterally impaired vision, strabismus or leukokoria. The most important differential diagnosis is unilateral retinoblastoma, which occurs in the same age group and has some overlapping clinical manifestations. The exudative retinal detachment in Coats' disease is caused by leakage of lipoproteinaceous fluid from telangiectatic retinal vessels. Ultrastructurally, there is loss of endothelial cells and pericytes with subsequent mural disorganization of retinal capillaries and massive lipid exudation. The formation of fusiform or saccular venous dilations tends to involve temporal parafoveal quadrant of the retina and is especially common superotemporally. In conclusion, Coats' disease is a rare entity. It is the second most common cause of pseudoretinoblastoma, being responsible for approximately 7% of enucleations where the clinical diagnosis was retinoblastoma. The prognosis and treatment differs considerably from one disease to the other. Coats' disease has no systemic manifestations. The patient is considered cured once the ocular manifestations are controlled. A misdiagnosis of retinoblastoma can cause side effects of chemotherapy. On the other hand, because of the high mortality rate, unrecognized retinoblastoma may be fatal for the patient.
SPIRADENOCYLINDROCARCINOMA: A MALIGNANT HYBRID TUMOR
I. Veliki-Dalić1, Z. Marušić1
1Ljudevit Jurak University Department of Pathology, Sestre milosrdnice University Hospital Center, Zagreb, Croatia
Eccrine spiradenomas and cylindromas are benign, slowly growing cutaneous adnexal neoplasms that usually arise as solitary or multiple nodules in the head and neck area. Malignant change arising within one is rare. Spiradenocylindrocarcinoma is a very rare malignant cutaneous neoplasm of the folliculosebaceous-apocrine unit. A 76-year-old male patient presented with a solitary nodule on the shin measuring 7 cm. The nodule had been present for several years. In the last few months, it showed abrupt and painful growth. No clinical data that would suggest Brooke-Spiegler syndrome were present. Angiography revealed a tumor mass in the skin and subcutaneous tissue. The tumor was composed of polygonal and oval nests of uniform epithelial cells arranged in a jigsaw pattern, surrounded by thick hyaline material resembling basement membrane. The nests also contained dilated vascular spaces and foci composed of duct-like structures lined by dual cell population: central cells with brighter and more abundant cytoplasm and small peripheral basaloid cells. In a proportion of the tumor there was loss of dual cell population, more abundant mitotic activity (up to 7 mitoses/10HPF) and ulceration of the epidermis. Proliferation activity measured by Ki67 in the malignant component of the tumor was approximately 15%, with EMA and p53 also showing a more pronounced reaction. This report highlights the transition of a benign hybrid tumor (spiradenocylindroma) into a spiradenocylindrocarcinoma. The term 'spiradenocylindrocarcinoma' is proposed to describe malignant tumors with features of both spiradenoma and cylindroma. Such cases are rare and, to our knowledge, only 4 cases have been reported in the literature so far. None of the cases described so far has been located on the extremities. Malignancy is evidenced by increased mitotic rate, necrosis, nuclear atypia, pleomorphism and hyperchromasia, loss of nested and trabecular growth patterns, and absence of a dual cell population.
SLIDE SEMINARS
1.  W. C. Chan. DIFFUSE LARGE B-CELL LYMPHOMA
2. J. Diebold, J. Audouin, A. Le Tourneau. PRIMARY SPLENIC B-CELL LYMPHOMAS.
3. F. Guscetti, M. Croci, M. Dettwiler. APOPTOSIS AND APOPTOSIS-RELATED PROTEINS IN CANINE LYMPHOMA
4. F. Del Piero. INFECTIOUS DISEASES OF LYMPHOID ORGANS IN ANIMALS
5. S. Ostojić-Kolonić. THE IMPORTANCE OF HISTOPATHOLOGIC REPORT IN THE DIAGNOSIS AND TREATMENT OF LYMPHOMA PATIENTS
6. B. Labar. MULTIDISCIPLINARY APPROACH TO THE DIAGNOSIS OF MYELOPROLIFERATIVE DISEASES
7. J. Diebold, J. Audouin. DIAGNOSIS OF NODAL AND SPLEEN INVOLVEMENT BY PERIPHERAL NK/T CELL LYMPHOMAS
8. Wing C. Chan. MOLECULAR PATHOGENESIS OF DIFFUSE LARGE B-CELL LYMPHOMA
9. S. Tkalčić. COMMON LYMPHOPROLIFERATIVE DISORDERS IN DOMESTIC ANIMALS
10. E. W. Collisson, Sh. Singh, S. Seo, J. Pei, M. Saggese, S. Tkalčić. AVIAN CELLULAR IMMUNE RESPONSES TO CORONA AND INFLUENZA VIRUSES
APPENDIX
S. Hančić, B. Karaula, O. Štanfel, K. Ražnjević, T. Gudelj. IMMUNOHISTOCHEMISTRY – FROM FIXATION TO PERFECT STAINING